How to Listen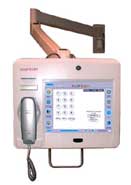 Radio West Middlesex broadcasts solely within the confines of the West Middlesex University Hospital using the hospital's bedside entertainment system, known as Hospicom. To find us, you need look no further than the Hospicom monitor on the arm above your bed.

Use the touch screen to select "Listen to Radio" then "Radio channels" then "Radio West Middlesex". Then just put on the stereo headphones to listen.
The volume can be adjusted using the touch screen.
Alternatively listen to us HERE from your own device or download the TuneIn radio app.
Happy listening!